Back Road Cycling Hardwick, Greensboro and Woodbury Vermont
I spent three great days in August visiting family and cycling in the Hardwick, Vermont area. The weather was perfect, three consecutive days with no rain, maybe the longest dry streak of 2009 for the North East Kingdom. My brother Spencer let me borrow his hardtail mountain bike which I setup with Dura Ace SPD-SL pedals. Not exactly a common sight on mountain bikes but it worked out well for this trip. Also acquired a UVM Cycling jersey for the trip. I had no idea UVM Cycling was so successful for the 2008-2009 season, first and second at the Collegiate National Cycling Championships. Catamounts on bikes..makes sense to me.

Started with a loop from Hardwick to Greensboro to Craftsbury Common to East Hardwick ending in Mackville. Just outside of East Craftsbury I shot this video while drafting a tractor.
Refueled with some fresh strawberries acquired at Pete's Greens in Craftsbury. Pete Johnson supplies area stores and restaurants with locally grown organic produce. The produce stand in Craftsbury features a living roof and a variety of items including cheese, bread, vegetables and fruits. Record your purchase on the yellow pad and make your own change.
On the way to Greensboro Bend I was lucky to see a Fisher Cat crossing the road. While digging for my camera a car came and the Fisher Cat bolted across the road. Too bad, wish I had some proof to share on this post. True story.
Also did a ride from Hardwick to East Long Pond in Woodbury. From Hardwick head South on Route 14 and then turn Left on Mackville Road. The pavement ends at Mackville Pond. Continue beyond Camp Kahagon (stay left), the road narrows and the grade steepens. Keep the faith, the road improves at the Nichols Ledge trail head. The hike (you can't ride it) up to Nichols ledge is short and well worth it if you have time. From the Ledge face you'll be rewarded with views of Nichols Pond and East Long Pond.
Buffalo Mountain Road – The Penultimate Ride of My Trip
Buffalo Mountain, really more of a hill, sits just South of Hardwick. There's an old road that goes straight up the mountain. The entrance for the road is immediately past Wright's Auto Exchange and is difficult to see from Route 14.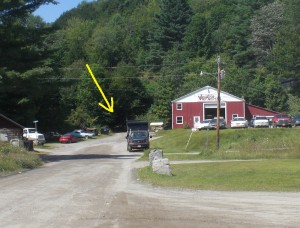 This road is popular with ATVs, especially snow machines during the winter. The lower section is not much more than a warm up and is in relatively good condition and any all-wheel drive family car could tackle it. The upper half of Buffalo Mountain Road is another story. At the half-way point there's a clearing and a new camp off to the right.
Just beyond this point the road narrows, becomes steeper and the stones get bigger. There are also some drainage ditches that have a way of sapping forward momentum when you need it most.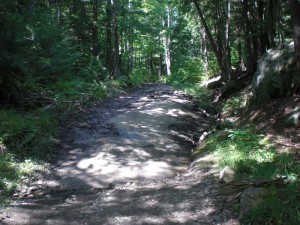 By my estimation, there are sections of the upper road that exceed 12% grade, not that bad on dry pavement, but add dirt, water and melon-sized rocks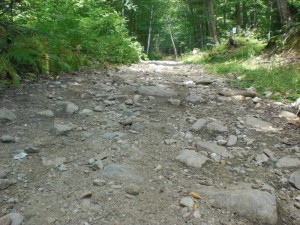 and it becomes a technical challenge beyond just a short cardio odyssey. I was hanging on OK, sitting, not standing but still close to my limit. For the first time on this trip I was on the small chain ring, working hard and moving slow. The front wheel was getting pushed around by rocks and I was spending too much energy reacting to every deflection. At about 3/4 of the way up I was forced to unclip to catch a fall. Once unclipped there was no way to re-clip — too steep. Walked the rest of the way to the top.
I look forward to a re-match with this road. Was only about 3 minutes of hard effort away from success on this climb. It would also help to ride with someone else to raise the pace and help identify good (and bad) lines.
At the top of Buffalo Mountain road three roads come together and there is a group of signs that are helpful to those unfamiliar with the area.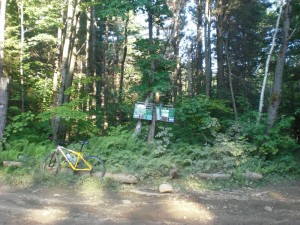 I road out on the West Woodbury Road for about 20 minutes. The road is a single vehicle road and heavily rutted in places for the first 2 miles. After that it opens up to a normal gravel rolling road with great views of Mount Mansfield. Turned around and returned to Hardwick on the Wright Farm Road. This road started out great but is heavily rutted in areas. Was very glad to have descend on the Wright Farm Road, climbing would have been more difficult than the Buffalo Mountain road. Plenty of mud and deep ruts.
The Wright Farm Road ends at Route 15 between the Lamoille River and the Greensboro Garage (Hardwick location). On the way back into town I stopped at the Hardwick Farmer's Market and purchased a steak from locally raised beef and also purchased two homemade éclairs. The Farmer's market is open from May to October on Fridays from 3 pm to 6 pm.
While cruising through Hardwick I noticed a sign at the Village Restaurant parking lot that says "Bike Hardwick, Wednesdays 6:30". At this time I don't have details but will update this post when I know more.
Where to Eat
The Buffalo Mountain Co-op on Main Street features natural, organic and local foods. They also carry good breads. There's also a cafe upstairs.
Another favorite source for groceries is Hall's Market on Main Street. This family run business is known for friendly service and quality meats.
The Grand Union on Wolcott Street is another grocery store option.
For breakfast the Stone Grill in Morrisville is a little out of the way but worth the 15 minute drive. You'll be served homemade bread, big pancakes, thick bacon, Green Mountain coffee, real butter and real maple syrup. Good fuel for a long day in the saddle.
Clairs on Main Street serves an up-scale menu with an emphasis on local ingredients.
The Mountain View Snack Bar serves hamburgers, fresh-cut fries, creemies (soft serve) and a variety of unique items and combinations.
Many of the general stores in the area also have small deli counters that make sandwiches and grinders as they're called in this part of the World.
If you're short on cash you can always try foraging. Blueberries were in season and I ate my share.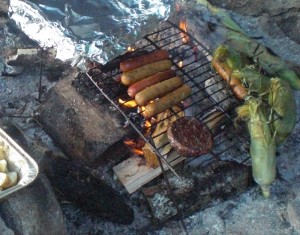 Sunset.